Stanley Kubrick's film "2001: A Space Odyssey" seems to have prototyped the design of dozens of digital tablets and slates being announced this week at the Consumer Electronics Show in Las Vegas.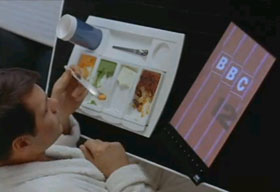 In this scene from the 1968 film, astronauts Frank Poole and Dave Bowman watch a BBC news broadcast on slates while eating breakfast. Their slates are slightly larger and thinner than the tablets at CES.
The year 2010 — year of the tiger in the Chinese zodiac — is shaping up as the year of the tablet. The chief executive of Nvidia Corporation, Jen-Hsun Huang, told Reuters that 2010 begins a tablet revolution. An Apple announcement is expected for 27 January, and companies making tablet news in Las Vegas include Dell, HP, Lenovo,  Microsoft, Motorola, Nvidia, Samsung, Vizio and others.
In September 2009, Brian Chen of Wired.com compiled a tablet image gallery starting with an 1888 patent drawing. Contemporary images start with the 1993 Apple Newton.




(People in the late 1960s expected food served in outer space to look disgusting. Two memorable consumer products: Tang and Space Food Sticks.)