Funny how things in work and personal life converge — maybe because one is feeding off the other. I'm building a communications consulting and training business in Singapore, LINEA, and meeting some really cool, independent businesspeople as a result. I'm also working with volunteers to beef up the learning program for children at the Whampoa Family Service Centre.
Through these seemingly unrelated events, people and places, I'm learning that diversity and differing points of views are crucial in strengthening the collaborative process. Yes, it takes longer to get to a conclusion and if not managed well, becomes a spaghetti-like mess of meetings and endless talk. But without it, originality, creativity and ah-hah moments would be few. And how would we develop if we don't take in new ways of looking at things?
Take something as simple as goals, for instance. The small-and-medium (SMB) businesspeople I've met have an independent streak tied very tightly with pragmatism and a link to their business goals. Paradoxically, their goals aren't measured purely by numbers but whether they're doing something tied with their beliefs and ideals and ultimately makes them happy. In my mind, business success had always been tied firmly to the bottom line.
After starting LINEA with a focus on public relations for small businesses, I also quickly realised that small businesses don't care about putting marketing disciplines in silos — they don't have the time or resources, and they want everything linked together. So I'm working with other independent partners to meet SMB needs so they don't need to go hunting around. Larger companies call this Integrated Marketing and sometimes view it as, uh, a Utopian state. Happily, I'm meeting other independent consultants like myself — and am looking forward to meeting more potential partners and learning from them.
Through a photography class, I'm also meeting independent shopkeepers who are totally going against the grain. Each photography student is shooting a single travel-related theme. I'm shooting "Singapore Retail: Beyond Orchard Road," to extend the boundaries of the usual Singapore shopping experience.
I've discovered that stores in the area of Ann Siang Hill, Club Street and Haji Lane (away from the usual tourist belt called Orchard Road) have strong, distinctive personalities and are run by young people with guts and strong vision. Their view is that the books, clothes, accessories, homeware and other products that make them happy will also make their potential customers happy to hang out there — and buy stuff.
Tying this back to the volunteer work I'm doing, I'd like to take some of the older, 11- and 12-year-old Whampoa kids to visit the area and meet these store owners and hang out in bookstores. There's a really cool kids' bookstore called Woods in the Books on Club Street. I'd like the kids to be able to chat with entrepreneurial young people who aren't confined to the mainstream, so that the kids realise they're not on some unchangeable hamster wheel that defines conventional success.
And at Whampoa, new volunteers have come up with some really cool, specific suggestions to improve the program. One volunteer suggested we weave in some mathematics rather than focus on English all the time. So we're experimenting with a "manufacturing and commerce" game. We placed the kids in teams and gave them Monopoly money that they "earned" by answering mathematics questions. With this money, they bought raw materials to make simple stuff — like bookmarks and decorate clothes pegs. Next week they're going to make goods, price them and "sell" them back to the volunteers.
Quite honestly, our strategy was good but execution less than perfect. We'd forgotten the power of little boys' cliques and weren't prepared. Pandemonium broke out when the boys didn't want to be in the same team as the kids from a different neighborhood. (Sound like the real world much?) But – we're learning.
While work, retail, and voluntarism seem like diverse worlds without natural links, I'm discovering an independent streak does exist in a country many have called, rightly or wrongly, a Nanny State. I'm hoping this streak develops quickly into strong brushstrokes that bring colour, originality and innovation to our canvas.
Top, a staff member at "Books Actually" on Club Street in Singapore. 2010 photograph by Geraldine Kan.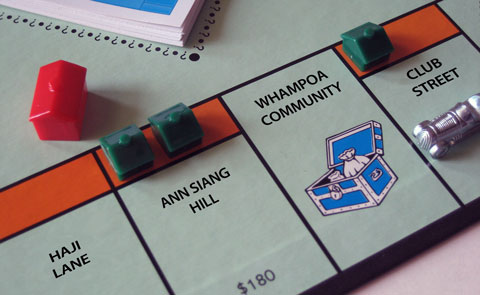 Geraldine Kan recently founded LINEA in Singapore.