Social media create terrific ways to meet people virtually. They're great tools for distributing news and ideas. If you're an Irish expatriate blogger in Turkey, like Catherine Yiğit, they enable you to build a community from behind a computer. But they're less good at introducing us to the basic mensch-ness of people.
Chris Heuer and Kristie Wells are changing that. They founded the Social Media Club almost five years ago in San Francisco as a way to make social media even more social. With more than 200 chapters on six continents, the group helps people share their understanding of new media. The club's mantra is "If you get it, share it."
One of the group's programs is organizing clubhouses for bloggers and communicators at social media conferences. Last weekend Social Media Clubhouse 4 took place in Las Vegas, at Blog World Expo 2010. Lenovo, the personal computing company that makes the ThinkPad on which I am creating this post, sponsored the house. Baltimore blogger Amy Phillips summarizes the value of Blog World, one of the leading social media conferences, as being focused on business, brand interactions, honing content, Radian6 and Google. (Among other things, the house provided the opportunity to learn about WordPress solutions like page.ly, founded by club members Josh and Sally Strebel. And among the organizations with truly surprising stories to tell at the conference: Ford, Kodak, Southwest Airlines, and the U.S. Army.)
One highlight was the serendipitous opportunity to attend the wedding of Emma Merkas, a blogger from Melbourne, who renewed her vows with husband Denis at the Viva Las Vegas Wedding Chapel on the final night of the conference. Emma had met my friend and colleague, Lenovo social media strategist Gavin O'Hara, while waiting for coffee at a Starbucks in the Mandalay Bay Hotel. Emma edits "$30 Date Night," a crazy website focused on ways to keep a marriage interesting. She invited Gavin and his crew to attend the ceremony.
The event distilled the awesomeness — as club member Zane Aveton would put it — of Las Vegas and social media into 15 minutes. Bride and groom arrived in a pink Cadillac, driven by an Elvis impersonator in white cape and rhinestones. After vows to give each other a hunka hunka burning love, not to treat each other like hound dogs, and not to step on each other's blue suede shoes, punctuated by bursts of white mist, broadcast in real-time over the Internet, documented on YouTube, promoted on Facebook, real-time reported on Twitter, Emma and Dennis were married again. And then they trooped off to karaoke at The Palms casino. But for those 15 minutes, 20 people from both hemispheres met and celebrated with inspiration and hope, recognized each other's mensch-ness, and vowed to write cross-promotional blog posts. Designed for Search Engine Optimization. In Elvis We Trust.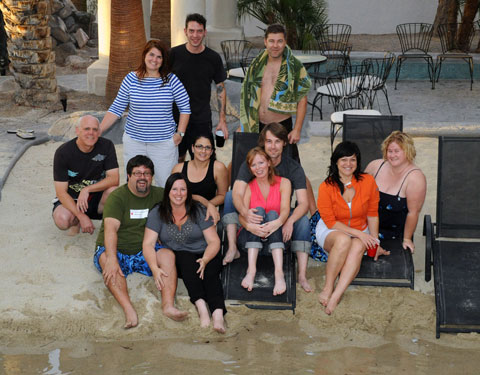 Among the crew of the Social Media Clubhouse 4 at Blog World Expo 2010, 14-16 Oct. in Las Vegas. From left, Bob Page, Chris Heuer, Nano Serwich, Kristie Wells, Erik Yowell, Jessica Murray, Sally Boldt-Strebel, Josh Strebel, Gavin O'Hara, Zane Aveton and Amy Phillips. Photograph by Bryan Haraway. Top photograph, of Emma and Denis Merkas, by the Viva Las Vegas Wedding Chapel.