What is PageStrategy, and who is Bob Page?
Bob led a team that put Lenovo ahead of Coca-Cola, McDonald's and every other sponsor in the race for media coverage at the Beijing 2008 Olympic Games.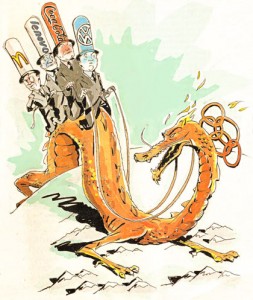 Two studies by Global Language Monitor showed Lenovo ahead of all sponsors at the 2008 Olympics. Dow Jones Insight ranked Lenovo third. This was an unprecedented accomplishment for the first global brand originating from China, a company known primarily for business-to-business personal computing technology. Lenovo's global Olympic PR program generated 1.8 billion impressions, nearly double the stretch goal, and won five major industry awards: a silver CLIO, two Holmes Report gold Sabres, a 2008 silver CIPRA award, and a bronze Anvil from the PRSA.
Bob's consulting practice, PageStrategy, focuses on global brand development and issues management. Recent projects include research on social media response to the Haiti earthquake and lessons for disaster intervention planning in other countries. Other assignments include the campaign of a candidate for U.S. Congress, the development of a mergers and acquisition communications process for a multinational company, management of a global blogger advisory council, and the preparation of executives for World Economic Forum conferences in Davos, Switzerland; Dalian, China; and New Delhi, India. Global business leaders think highly of his performance.
Bob directed the global communications strategy behind high-visibility, high-risk brand development programs at Lenovo immediately after its acquisition of the IBM Personal Computing Division. These included Lenovo's technology partnership with the Torino 2006 and Beijing 2008 Olympic Games and the company's design of the Beijing 2008 Olympic torch. Bob directed crisis communications for the company's sponsorship of the controversial 2008 Olympic torch relay, and communications for partnerships with the National Basketball Association and Formula 1. Lenovo's Olympic communications team was responsible for several historic firsts. The team …
used social media globally to select Olympic torchbearers online for the first time
auctioned Olympic memorabilia online from the Athletes Village for the first time
created a global social media program around Olympic athletes allowed to blog during the games for the first time.
At IBM, Bob managed communications for dozens of products, brands and technologies, including the flagship ThinkPad notebook PC. He also managed employee and executive communications for IBM Research Triangle Park, IBM's largest employee site worldwide, and for the IBM Charlotte location.
Bob is a former director of media relations at Davidson College, and started his career as a bureau manager for United Press International. He lives in Charlotte, North Carolina.
Bob Page / bob@pagestrategy.com / +1 919 360 0433
Bob on LinkedIn. Bob on Twitter.
Illustration by Tim Bower from The Wall Street Journal, 17 March 2008.