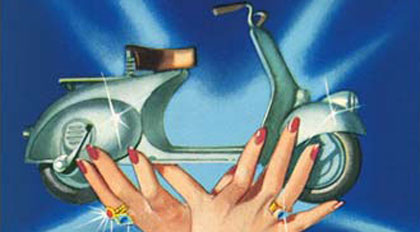 The iPhone is a great product. But it's no Vespa.
In September of 2009, the product of the moment is the Apple iPhone. But it's no Piaggio Vespa.
The iPhone connects people to friends, family and colleagues in a human, stylish, perhaps even magical way. As an always-networked hand-held personal computer, it enables people to manage their lives not from behind a desk, but from their pocket. The iPhone is so popular that it overloads networks and upsets legislators, who believe all carriers should be able to offer it. These are lovely problems to deal with.
In a couple of months, the iPhone officially goes on sale in China, where a new deal with China Unicom provides access to 140 million new subscribers.
The iPhone story is fascinating, but it pales in comparison to Vespic myth. The Vespa helped rebuild Italy after World War II, empowered women, young people and a national workforce, and became a global movie star — a symbol of joy, independence and style. After more than six decades, the Vespa still captures imagination. Apple offers brilliant marketing and innovative products, but where will the iPhone be in 2070?
Vespa history is inspiring for dozens of reasons, but for me, the most powerful lesson is in the courage of the people who invented it. In 1945, amid the post-war devastation of Italy, the brothers Enrico and Armando Piaggio needed desperately to launch a product that would re-utilize employees, machinery and factories that had manufactured aircraft during the war. They bet, correctly, that Italians would need cheap transportation, and asked an engineer named Corradino D'Ascanio to re-design a motorcycle that had been developed for paratroopers.
D'Ascanio disliked motorcycle usability, so he re-invented the vehicle. Motorcycles were complicated and uncomfortable to ride, they got their drivers and passengers dirty, and they were difficult to maintain. Leveraging ideas from aviation, D'Ascanio gave the vehicle a shell-like, monocoque frame that protected the driver from messy, post-war Italian streets. To make changing a flat tire easier, he used a strut design from an aircraft landing gear, rather than a front fork. D'Ascanio also created a completely different, seated, upright driving position to make the vehicle more comfortable for novices – even women and priests, it was said.
Piaggio launched the Vespa 98 in March of 1946 at the Golf Club of Rome, in an event attended by U.S. Rear Admiral Ellery Wheeler Stone, an engineer himself, and chief representative of the allied military government focused on the reconstruction of Italy. Stone later became vice president of IT&T, and is also a fascinating story.
The Vespa is mythic because it originates and then transcends, like Phoenix, from destruction and poverty. Beyond turning swords into ploughshares, the Vespa transformed military expertise into civilian economic development. By applying aviation principles to motorcycle design, Vespa inventors created an entirely new product category.  The Vespa provided hope to desperate people, and today it continues to provide joyous, noisy, environmentally friendly transportation to people around the world. Vespa is the product all of us aspire to create.